From hsw
Xi'an netizen "Gu Cheng Fei Niao" couldn't wipe the picture or the sound of a wedding he saw in February. So he uploaded the photos he took to share about what he called "the most superb wedding firecracker works in history".
Here is translation of his description: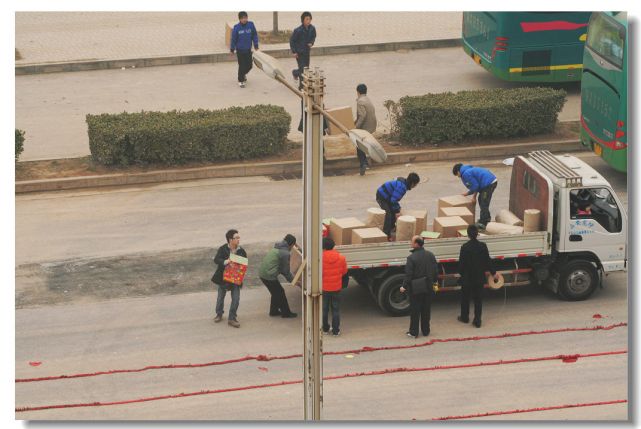 Around noon, I saw a truck coming to and for on the road out of my residence, unloading boxes containing fire works. I thought there would be a sales stand on the road. Then at about 7 pm, thundering sounds of fire works started out of my window, I looked out and saw numerous fire flashes constituting the line "May XX and XX happy marriage". I realized it was for wedding. The fire works continued for more than one hour. My wife and I estimated it must cost tens of thousand yuan.
The next morning I walked to the window to saw what's left after last night. But what I saw was lines of fire crackers lying on the road like red river. After a while, those fire crackers also made thundering sounds with smokes pervading the sky, leaving nearly zero visibility. It burned and cracked for over 20 minutes, what a scene. I was wondering how the road of red scraps would be cleaned but actually cleaning began right after the burn over. It certainly demanded lots of efforts to clean up all the hundreds-meter-long road of scrapes though.
Judging by the cars parked aside the road, let's say 5 meters for one car, the fire crackers lines must  stretch for about 300 meters at length.
Some comments from netizens:
猫眼0622: there are lots of ways to spend money, but this should not be considered, it gives people feeling of parvenu (not that I am jealous).
千古罪人: In terms of environmentalism, someone have money and willing to waste around, we can do nothing about it, but don't pollute the air at least.